THE STORY

The Spaceman follows Korey Benton, a young African American astronaut who is chosen to be on a volunteer mission into a mysterious wormhole that has appeared outside of Earth. After the mission doesn't go as planned, Korey must face the problems he left behind on Earth throughout the unknown voids of space.

This film was a passion project of the team for months. Being of African American descent himself, the director noticed how few minorities are ever the leads or focus of stories in the sci-fi genre. Using only $30 and DIY techniques, the team went out and tried to craft a sci-fi spectacle with abstract and dramatic elements around that topic.

Powered by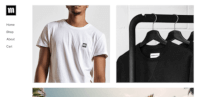 Create your own unique website with customizable templates.